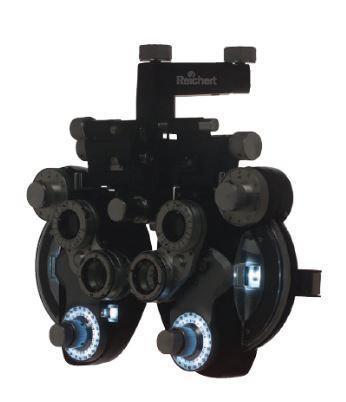 Reichert
Illuminated Phoroptor Refracting Instrument

Estimated Delivery:

Dec 24 - Jan 03
 Manufacturer Part Number: 11636
Overview
You work hard to help improve your patient's eye sight, but who is looking out for yours? No more straining to read the dials in a dark room. With lighted sphere, cylinder power, and the cylinder axis scales, you can put the pen light down and leave the lights off through the entire refraction.

Illumination is provided by cool-running, energy efficient LEDs (Light Emitting Diodes) that light only what you need to see without affecting the darkened refracting environment. The best of all they are maintenance free so you'll never need to change a light bulb.

Every Phoropter comes with a limited lifetime warranty, the best in the industry

The name and shape of the PHOROPTOR® is a registered trademark of Reichert, Inc.
Included Accessories (no extra cost):

± .25 Flip cross cylinder
+ 1.50 Retinoscopic Lenses
Accessory Case
3 pair nylon face shields
Rotochart
Reading rod with card holder
Optional Accessories (no extra cost)*:

Flip cross cylinder lenses

+.37D Flip cross cylinder
+ .50 Flip cross cylinder (Replaces the .25 flip cross cylinder lenses
Retinoscopic lenses

+2.00 Retinoscopic lenses (Replaces the 1.50 retinoscopic lenses)

*No extra cost applies only if stipulated at the time of order
Specifications:

Sphere:
-19.00D to +16.75D
0.25D Steps
+0.12D Sphere in auxiliary dial included

Cylinder Power:
0.00D to 6.00D
0.25D Steps
Plus or minus lens system optional 0.12D and 2.00D accessory cells included

Cylinder Axis:
360 degrees (Double 0 to 180 degrees scale)
5 degrees graduations

Cross Cylinder:
± 0.25
± 0.37 or ± 0.05 Optional

Prism:
0 to 20 Prism Diopter, 1 Prism Diopter graduations

P.D.:
48 mm to 75 mm, 1 mm graduations

Vertex Distance:
13.75 mm (normal)
Graduations extend range by 6 mm

Reading Distance:
5 to 28 inches
Centimeter and diopter scales included

Auxiliary Dial:
10 lenses plus 2 open apertures