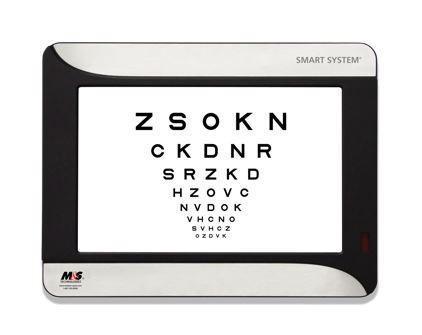 M&S Technologies
Smart System 20/20 USA

Estimated Delivery:

Dec 16 - Dec 23
Manufacturer Part Number: S-2020-USA
Customizable Software
Smart System 20/20 visual acuity software is custom written by our own software developers, a unique feature in the industry. By leveraging the latest multimedia technologies and using input from leading practitioners, the 20/20 provides accurate and reliable performance. The robust design allows for easy upgrades for future enhancements and gives the user the flexibility to quickly customize the layout of the remote control, or tablet to accommodate specific needs. The calibration and set-up screens are clear, easy-to-use and adjustable to any exam room environment. Seamless integration with EHR systems allows the use of just one computer in the exam room! Smart System has been issued several patents and others are pending.

M&S Technologies has established key business partnerships with several key ophthalmic device manufacturers. This technology integration allows you to seamlessly interface the Smart System 20/20 to the auto-refraction systems of Marco Ophthalmic, Topcon Medical Systems, Reichert Technologies, Huvitz and Visionix. You can fully integrate Visual Acuity, EHR, Patient Education and more, saving you time, increasing throughput and helping you provide quality care to your patients. Easily controlled through the patented interface, testing features of each manufacturer are seamlessly displayed on the Smart System 20/20. Furthermore, the full features of the Smart System 20/20 are available outside the auto-refractor control panel to display tests that are not available through the interface so all the robustness of the Smart System is always available to the user. US Patents 8,167,429 and 8,419,184.

High-Quality Patient Education Videos
Integrate seamlessly with Eyemaginations for patient education and education-based marketing! This feature is programmed and controlled by any one of our input devices. The current direction of health-care will force the industry to do more with less and this is where patient education and education-based marketing play a vital role. Regardless of the patient chair time, patients need to be educated on various types of lenses for glass use or the large number of multi-focal IOL's available today. Educate your patients and increase revenues.

Technology Integration
M&S Technologies leads the industry in the integration of technologies in the exam room by partnering with other leading companies in the industry. Instrument companies such as Topcon, Marco and Haag-Streit all understand the value of partnering with the industry leader in computer-based LCD projectors. From seamless integration between the Smart System® and automated refraction technology, to integration with Haag-Streit in the "Exam Room of the Future", M&S continues to lead the industry.

Many of our competitors claim to "interface" but M&S is the only company that has a true partnership with these industry leaders. With the explosion of technology in the practice, do you really want to invest in companies that claim they integrate or do you want to invest in a company that has partnerships where technology is updated, cross-training takes place and information exchanged?

Smart System Tablet Technology
The Smart System Tablet allows users to customize the input device to exactly their needs. Each tablet configuration allows for 6 different tabs of tests with multiple direct access buttons to control every screen of the Smart System 20/20. For example, you can have a tab for Children, which may include LEA symbols, Worth Four Dot, Fixation Animations, etc., and another tab for Contrast Testing which may include our exclusive Letter Contrast test protocol, Sine Wave Gratings and Landolt Rings, and another tab for Patient Education and so on. This customization feature has been developed to increase throughput and patient flow while making your time with the patient more effective.

Glare Testing System (GTS)
GTS is a consistent technology for measuring the impact of glare on a patient's vision. Carefully calibrated against existing methods of testing, our Glare Testing System (GTS) provides consistency that can't be found in rechargeable incandescent systems or any other hand held glare source in the market today. You can easily determine glare disability by setting the GTS to display an optotype for "x" period of time, then turn on glare for a predetermined amount if time to replicate real life experiences such as a oncoming vehicle approaching in the evening hours. So when your patient complains that their vision is significantly reduced in bright sunshine or driving at night or simply has trouble seeing after refracting to 20/25, simply turn on the glare function to simulate that effect.

CustomLink™
M&S Technologies CustomLink interface provides an innovate way to customize any M&S supplied input device to accommodate the needs of the eye care professional. Automatic system set-up whereby each user can set up Smart System 20/20 exactly the way they prefer. It allows the practice to increase the utilization of the exam room (for example, you no longer need a specialty room for pediatrics; when not being used for Ped's it can be used by Retina, Refractive, Low Vision, Contact Lens, etc.) by allowing the eye care professional to "sign in" when using that exam room. The user will then be able to specify exactly which tests, videos, charts, etc., they prefer to use in the exam room. Unlimited number of users can control Smart System exactly to their liking.